"Our patients feel that they are part of a system"
– Bethesda Health Care Corp, Boynton Beach, FL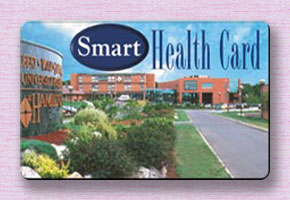 What reactions have you received from the community and/or cardholders on your Smart Health Card?
The community loves the Smart Card. We have made over 58,000 cards and are still receiving requests for new cards via the mail and the website. The patients love the fact that the card helps registration access their records faster.
Has the Smart Health Card helped in the ER registration process?
In the ER, the card is very helpful. If a patient is in any kind of distress we can take the card and create a chart based on the last visit. The patient is not bothered during their treatment for information and the chart can be updated after the patient is stabilized or the family arrives to give us further information.
Has the Smart Health Card helped increase the volume in ER?
The card has not had any effect on the ER volume.
Have you used the Smart Health Card for any marketing strategies?
We have marketed the card as a quicker way to get through registration. Any further info on this would have to be followed up through PR.
What do you feel are the main benefits of the Smart Health Card?
The main benefit is that registration does not duplicate your Medical record. Getting info from patients can be effected by language, pain, anxiety and many other factors. With the Smart Card registration always start with the correct patient.
Would you recommend a patient ID system to other health care facilities?
I would recommend the Smart Card to other facilities.
Please describe your market and health system size.
Info on the market would have to come from PR but we are a licensed at 204 beds.
How has the Smart Patient Card System been marketed?
The hospital does a lot of Community health fairs and classes. The Card is always brought up at these functions. The township has a big September Fest and the Hospital's booth always has info and applications for the card. You can also learn about the card and apply for one from the hospital web sight.
Has the health system efficiency improved resulting from the Health Card Solutions Patient Card System and if so how?
Registration provides information at every registration and can process the request at the same time.
Is the Health Card Solutions support staff accessible when you need them?
The support staff is always accessible. We often have problems with the electrical power effecting the machine. This messes up the files. We contact you, send over the files, and have them return with all corrections.