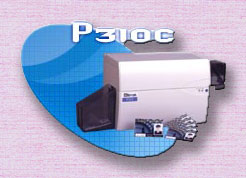 Cleaning of the printer/encoder is very important and must be done on a regular basis for high quality printing and care of the print head. Health Card Solutions recommends the purchase of our cleaning kit, part number 100600.
The following process should be followed each time the printer ribbon is replaced.
The cleaning roller
Remove the cleaning roller.
Pull the retaining bracket back (towards you).
Lift the roller to disengage and remove from the printer/encoder.
Rinse cleaning roller under tap water, rubbing to remove dirt.
Dry cleaning roller, either by air, with a can of compressed air, or with a lint free cloth.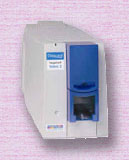 Warning DO NOT use alcohol on the cleaning roller, as this will damage the roller by reducing its ability to attract and retain dust and dirt.
The next rollers to clean are the drive rollers. The drive rollers need to be cleaned with a cleaning pen, which comes with printer/encoder cleaning kit.
Raise the print head assembly and remove the ribbon.
Note, the cleaning roller should not be in printer/encoder.
Execute the Eject Card Command by choosing a record from the database and sending it to the printer several times.
While the rollers are turning, slowly move the tip of the cleaning pen across the rollers.
After cleaning is done replace ribbon and lower the print head. Then replace the cleaning roller. The printer is now clean.
To order cleaning kits please send an email or contact us directly at (651) 257-3030.