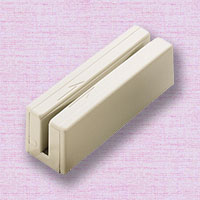 Card readers are fully programmable, allowing you to parse specific information from the magstripe into your application.
To keep your card reader at optimum performance, it is recommended that the card reader head be cleaned monthly or every five thousand card swipes, which ever comes first. Some environments require cleaning more often, and are listed below.
Weekly: Recommended for heavy registration usage, any locations where fluids could get on the magnetic stripe.
Monthly: Recommended for moderate registration usage.
Please follow the following instruction for cleaning of the Wedge Reader.
Open pouch and remove Head Cleaning Card.
Swipe Head Cleaning Card repeatedly (7-8 times).
Rotate the Head Cleaning Card and repeat for each of its four sides.
Discard the used Head Cleaning Card.